Expression MR200 + IP5
"Entry Level" premium MRI Patient Monitor, offering a basic feature set at a competitive price while delivering the high level of performance and quality expected from the Expression product family.
Every component of the system is designed to withstand this harsh environment and its medium 1500 Gauss rating and 1.5 and 3.0T compatibility regardless of parameter configuration is a reflection of this fact.
The Expression MR200 can also be combined with the Invivo Essential to provide continuous monitoring through the entire process. Essential helps you create a more satisfying patient experience, introduce new opportunities in patient monitoring and make better use of your human and financial resources.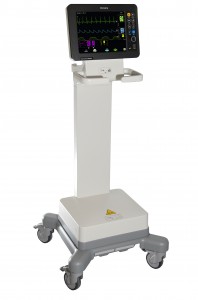 Remote Monitoring from the MR Control Room & Connectivity with the hospital IT system.
Again connecting the Invivo Expression Patient monitoring with your hospital IT system is now easier than ever.
The Expression IP5 information portal is your most convenient way to integrate your MR patient monitoring data from the MRI Unit.
With wireless remote MR monitoring, you should expect a complete interoperability solution that resembles standard bedside monitors. On its 19″ widescreen touch-screen display, you can access, view, and track vital signs in the MR control room without the need for extensive – and expensive – wireless router networks.
The Expression IP5 elevates monitoring to management. It blends smart decision-making support with robust case-management capabilities, evolving to become intelligent and tailorable to the needs of you and your patients. Its advanced platform gives you more opportunities to gain deeper insights into a patient's condition – and helps in satisfying your never-ending quest for better decision support.