Accessories and Associated Consumables
These Quadtrodes are the only ECG electrodes designed specifically for Adult, Neonatal, and Cardiovascular MRI applications. Their large contact area and unique gel lower resistance to provide the best ECG signal in MRI.
Quadtrode®
The standard Quadtrode® MRI ECG electrode provides a number of unique features that contribute to its excellent performance in the MRI environment. It is designed for general adult MRI use with a large electrode contact area to provide optimal ECG performance. This unique design incorporates four electrodes into a single, easy to use disposable patch.
Neonatal Quadtrode®
The Neonatal Quadtrode® has been specifically engineered to address the neonatal patient's special needs in MRI. The design accommodates patients weighing less than 10 Kilograms (22lbs). The electrode pads have small, localised adhesive contact area for easy application and removal.
CV Quadtrode®
The CV Quadtrode® offers the same features and benefits as the standard Quadtrode, with the added advantage of four individual pads, allowing for optimal cardiovascular placement. Its electrodes and lead wires were developed specifically for Cardiovascular (CV) MRI. The large, wet gel contact area provides superior performance during CVMRI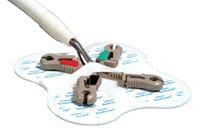 Enquiries for all other accessories & associated consumables please follow the link below & complete the online information request form.